Marcoch, Jukić, Raić, Gavranović, and two of Miše Vrdoljak houses.

Starting from the left. Marcoch was an Imotski governor who came from Sinj and married in. He has a dubious distinction as the first person who has started removing Topana stones and using them for building private houses. The house became a property of Nikola Šabić by marriage. It was remodeled recently by new owner Kuzman.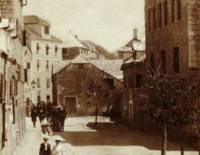 Next is a renewed house where Ban Jukić had his inn. It was trimmed after the WWII to broaden Piazza.

Raić brothers who came from Bušanje have built a house and a restaurant in the empty space in the late sixties.

Gavranović from Lovreć had an inn in the house next to Raić's restaurant.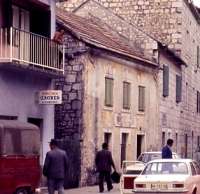 Next is a smaller Miše Vrdoljak house which housed a Post Office between two world wars. Large Miše Vrdoljak house is descibed on the following page.

Marcoch, Jukić, Raić, Gavranović i dvije Miše Vrdoljaka kuće.
Opis ide sa lijeve na desnu stranu.

Marcoch jo bio imotski gradonačelnik. Došao je iz Sinja i tu Imotskome se je oženio. Priča se da je prvi počeo rušiti Topanu i koristiti njeno kamenje za izgradnju kuće. Kuću je preuzeo Nikola Šabić ženidbom. Nedavno je renovirana od novih vlasnika Kuzmana.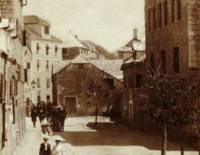 Slijedi poznata gostionica Bana Jukića, koja je bila sužena nakon drugoga svjetskoga rata da bi se proširila Pjaca.

Braća Raić iz Bušanja su izgradili veliku kuću u kojoj je bio dugo godina uspješni restaurant.

Gavranović iz Lovreć je imao staru gostionicu do Raićev;og restauranta.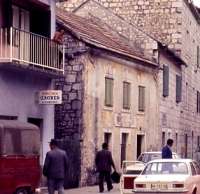 Slijedi manja kuća Miše Vrdoljaka gdje je bila pošta izmedje dva svjetska rata. Velika kuća Miše Vrdoljaka je detaljno opisana na slijedećima stranicama.

Image 25 of 37