Marče house

This is one of the oldest Imotski buildings. It could be seen on the old Imotski lithograph by Johan Hogelmuller. The house was owned by Mendeš family then.

Marăe brothers were well known merchants. They held many public offices.

The building used to house County Court at the begining of the 20th century.

This is the street called "my street" on Davorko Barbir paintings and acquarels.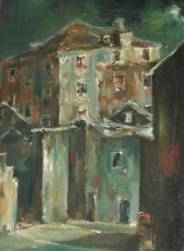 Marče kuća

Ovo je jedna od najstarijih imotskih kuća. Može se vidjeti na staroj litografiji Johana Hogelmullera. U to doba kuća je bila u vlasništvu Mendeš famlije.

Došavši u Imotski kao pomočnici Mendeša , braća Marče su postali jako uspješni trgovci nakon naslijedjivanja Mendeš imanja. Oba su zauzimali istaknute pozicije u vlasti Imotskoga.

Tu je bio stari Sud na početku 20-oga stoljeća.

Ova ulica je "moja ulica" na uljenim i akvarel slikama Davorka Ćire Barbira.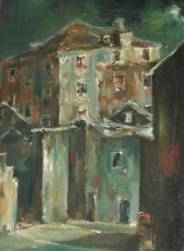 Image 19 of 37