Grubišić

Grubišić house, as it is commonly known, was built by Jukić. His widow Jakuša married a Grubišić from Solin. The house had an inn which was captured on an old Imotski postcard.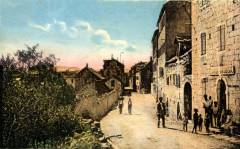 Their son Jakov has built a smaller house on the east side, the last house next to the Petar Vrdoljak street leading to Bazana proper.

Left to the Grubišić house is Ivan Rako house, who had a carpinter shop there. Further left is Soldo house.

Grubišić

Grubišić kuću, kako je bolje poznata, je napravio Jukić. Njegova udovica Jakuša se udala za Grubišića iz Solina. U prizemlju je bila gostionica, kao što svjedoći poznata stara razglednica Imotskoga.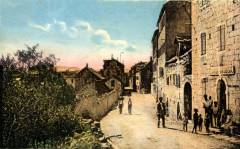 Njegov sin Jakov je sagradio manju kuću na istočnoj strani, koja je zadnja u nizu kuća do Petra Vrdoljaka ulice koja vodi do Bazane.

Lijevo od Grubišića kuće je kuća Ivana Rake, koji je imalo tu drvodjelsku radnju. Još lijevo je Soldina kuća.


Image 25 of 41