Old Filip Vučemilović house

This old Filip Vučemilović house was a lone house at the begining of the 19th century. He has sold it after building a new house. It had housed a bank for a long time and also as a condominium. It is in a Šabić family property these days.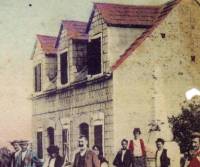 On the right it was a Franz Jospeh monument sculpted from white marble. After WW I and a disappearance of Austria-Hungary the monument was sacked and transpored to the county prison. Fra Vjeko Vrčić has rescued the monument in 1965, cleaned it of extra paint and other elements and exhibited in St. Francis Monastery.

Old Filip Vučemilović kuća

Ova stara kuća Filipa Vučemilovića je tu bila jedina kuća na osami početkom 20. stoljeća. On ju je prodao i napravio novu. Bila je banka a kasnije i stambena zgrada neko vrijeme. Sada je vlasništvo Šabić obitelji.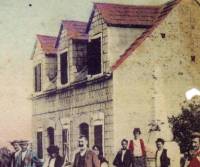 Desno od nje je bio spomenik Franji Josipu od bijeloga mramora. Nakon raspada Austrougarske spomenik je srušen i odložen u prostoriji gradskoga zatvora. Fra Vjeko Vrčić je preuzeo spomenik 1965-te, oprao ga od suvišne boje i natpisa kao i ostalih elemenata te izložio u muzeju samostana Svetoga Frane.


Image 29 of 33