Stjepan Crnica and Džamonja houses

Stjepan Crnica was the first Imotski county official, serdar for civil works after the fall of Turks in 1717. The house has changed few owners before being sold to Nikola Mendeš, a merchant from Gorica in the first half of the 19th century. He has left all his property to his apprenticies, Marče brothers, good merchants in their own. They have resold the property to Luka Milinović, a newcommer from Livno. The place is a property of the Commerce bank which added more more flight.

Next to it is a Džamonja house built from white marble. Jure Džamonja was a newcomer from Mostar.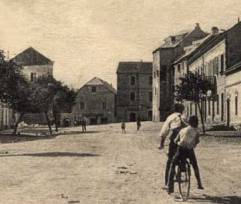 Stjepan Crnica i Džamonja kuće

Stjepan Crnica je bio serdar za civilne poslove krajine nakon poraza turaka 1717. godine. Kuća je promjenila nekoliko vlasnika prije nego što je bila prodana Nikoli Mendešu, trgovcu iz Gorice u prvoj polovici 19. stoljeća. Oporučno ju je ostavio Marče braći, svojim šegrtima, kasnije uspješnim trgovcima. Oni su prodali kuću Luki Milinoviću, doseljeniku iz Livna. Tu je došla komercijalna banka koja je podigla još jedan kat.

Odmah do nje je Džamonja kuća napravljena od bijeloga mramora. Jure Džamonja je bio pridošlica iz Mostara.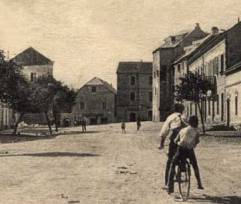 Image 3 of 33