One of the numereous Vučemilović houses

This is one of the few standing building from the Turkish rule. It belonged to Ćosić bey. The Moslem Ćosić's, who remained in Imotski after the defeat of Turks in 1717 and converted to Christianity, were owners of the whole Pazar place during the Turkish rule. They have later moved to Vrdol, where there are still located these days.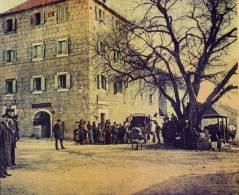 In front of the house was a an old "Kostela" tree providing much needed shade for Wednesday Open Market trading. Imotski mayor Jure Jerković was responsible to its removal after it has become an obstacle for town trafic.

Jedna od mnogih Vučemilović kuća

Ovo je jedna od malobrojnijih kuća koja se je zadržala iz turskog vremena. Pripadala je Ćosić begu. Muslimani Ćosići, koji su ostali u Imotskom nakon 1717. su svi prešli na katolicizam. Kasnije su prešli u Vrdol, gdje su i do dana današnjega ostali.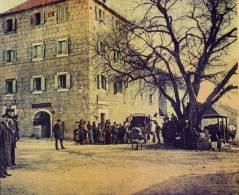 Ispred kuće je bila stara kostela koja je davala dobru hladovinu za vrijeme pazarnih dana svake srijede u Imotskome. Imotski gradonačelnik Jure Jerković ju je uklonio 1928. godine kada je postala prepreka za promet.


Image 10 of 33