Matica Hrvatska square with its Tin Ujević stature

On the right side, just above the level of Tin Ujević stature is Mostarčić house. Bilić family after arrival from Mostar, became Mostarčić. The place housed Frane Mostarčić, a father of well known Prof Mladen Mostarčić inn after the WW II. After the confiscation of the Mostarčić's property in 1944 and heavy taxation of the inn after the WW II, Frane has just extinguished his life refusing food and drink.

Below the Mostarčić house is a large stone Colombani house. The Colombani's came from Piran as Venetian officers after the Turks have been defeated. The house has a large walled garden behind. at some time the Colombanis have split and some of them have built a building near Volat passage. The original Colombani place was bought by Petar Kusić from Grabovac and Drago Tolić from Prološac.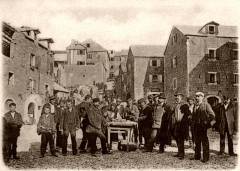 Trg Matice hrvatske sa statuom Tin Ujevića

Na desnoj strani, poviše levela statua Tin Ujevića je Mostarčić kuća. Bilić je obitelj nakon dolaska iz Mostara, postala Mostarčić. U toj kući je živio Frane Mostarčić, otac poznatoga Prof Mladen Mostarčića koji je tu imao gostionicu skoro sve do kraja drugoga svjetskoga rata. Nakon što je ta Mostarčića kuća bila nacionalizirana u 1944-oj i jaki porez nametnut na gostionicu, Franin život se je samo ugasio nakon što je odbio hranu - umro od jada.

Ispod Mostarčića kuće je velika kamena Colombani kuća. Colombani su došli iz Pirana kao Venecijanski oficiri nakon izgona turaka. Kuća je tada imala i veliki vrt iza nje. Nakon nekoga vremena Colombani obitelj se je razdvojila i jedan dio je prešao kod Volat prolaza. Ovu njihovu kuću su kupili Petar Kusić iz Grabovca i Drago Tolić iz Prološca.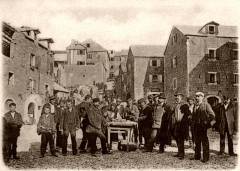 Image 5 of 33