Radovinović house

This large Radovinović house was built by dr. Augustin Bitanga who has moved to Imotski from Runović. Bitanga's have changed the family name to Radovinović some time ago. It used to be that Pave had son Jago and Jago in turn had Pave, so the house is known as "kuća Pave Jagula." They always used to have a large family that is now scattered all over Europe, mostly Switzerland. Only the lowest floor is in the family possesion after the communist nacionalization after the WW II. It has a three story and a large backyard which used to house several very nice gardens.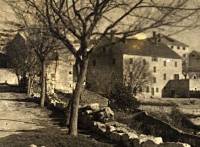 Next to it is a small old Dunda house.
Radovinović kuća

Ova veliku Radovinović kuću je napravio dr. Augustin Bitanga došljak iz Runovića. Bitange su promjenije prezime u Radovinović davnih dana. Kako su se imena naslijedjivala u familiji tako se je išlo od Pave do Jage, pa opet do Pave kuća je bolje poznata kao "kuća Pave Jagula." Radovinović su uvijek imali veliku familiju. Razišli su se po cijeloj Evropi, poglavito Švicarskoj . Nakon komunističke nacionalizacije samo je najdonji kat i veliki vrt ostao u posjedu familije.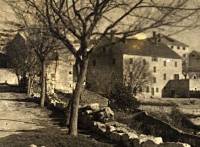 Odmah do nje je mala Dunda kuća.


Image 13 of 25