Recently built houses on Djirada

On the left are new houses in place of what was an empty space.

The road on the right of the old tree still has a handfull of old houses. On the north side there is Grof Pušić house, hiding behind the old gas station.

The Pušić's or Orhanović's came from Pušić village near Mostar in Herzegovinia. Further come Ostojić, Ćebo, and Grbić houses.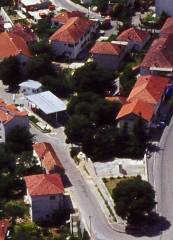 On the south side towards west two sons of newcommer Mijo Pušić, Jure and Marijan have build houses next to each other at the place of modest Mijo's house. While Jure's house has been intact since the old days, the new owners of the Marijan's house the Spajić family have remodeled their place.

Further west there was a house of Krste Balać, which is gone by now and Bradvica Šiljo houses. On the way towards Grančići there is a house of Tomo Gudelj Velaga from Poljica.
Nedavno izgradjene kuće na Djiradi

Na lijevo su kuće gdje je do nedavno bila praznina.

Ulica na desno od starog drveta još uvijek ima nekoliko starih kuća. Na sjevernoj strani je Grofa Pušića kuca, sakrivena iza benzinske stanice.

Pušići ili Orhanovići su došli iz Pušića sela pokraj Mostara u Hercegovini. Malo dalje su Ostojić, Ćebo i Grbić kuće.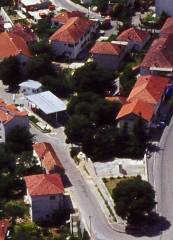 Na južnoj strani dva sina došljaka Mije Pušića, Jure i Marijan su napravili dvije kuće na mjestu skromne Mijine kuće. Dok je Jurina ostala nepromjenjena od starih dana, novi vlasnici Marijanove kuće, Spajić obitelj su je remodelirali.

Još zapadnije je bila kuća Krste Balaća i Bradvica Šilje. Put Grančići ima stara kuća Tome Gudelja Velage iz Poljica.


Image 9 of 28